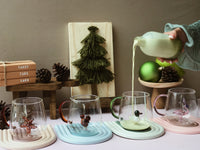 Need a morning pick-me-up?
Make yourself a coffeehouse-quality espresso at home, and pour it into an insulated cup. If you prefer tea, heat water in an electric kettle instead, and serve in a vacuum mug.

Double-walled glasses keep your drinks hot and they keep iced drinks cold as well.

When you're done with your drink, place the cup in the dishwasher for effortless cleanup.